Well it?s mid-December and we?re in the thick of things. As we?re transitioning from our pre-season to the competitive season, figured I?d jump in and get you up to speed.
The only time we?ll ?retreat? all season
Our team kicked off the season with a team building retreat up in northern Westchester.
Our wrestlers and coaches spent the day bonding, working through a variety of team building challenges and having a great time. As a coach, it?s always great to take a new group of kids – some new, some returning – throw them into situations like this and watch them start to gel as a group. With such a large group of freshmen this year, it was even more valuable to introduce them to the culture of our program and watch our veterans (we really have an amazing group of leaders on this team!) take our newer wrestlers under their wings.
It was such a great day. It?s hard to describe the impact events like this have on our program, but doing little things like this that intentionally build our PantherTough culture of commitment and service to each other, have a dramatic impact on our competitive results. When our kids start to realize, even though they step on the mat by themselves, they?re not alone and they compete for something so much bigger than themselves, great things start to happen.
I know you guys couldn?t be there (they don?t make buses that big!) so I figured sharing some pictures would help give you a better idea!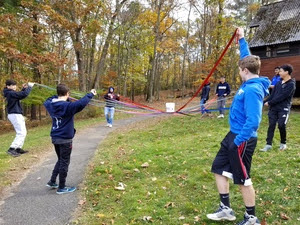 A peak at the line-up
As I mentioned with a roster of 22 and 12 being freshmen, you?re going to see A LOT of new names and new faces this year. We talked to our guys about how special that is. We graduated a large and talented senior class last year. We only have two seniors and two juniors on our roster right now. This is the first year that we haven?t had at least one #1-ranked wrestler going into the season (don?t worry – that will change soon!) in 10 years.
In so many ways, this is the beginning of a new era for our program and I couldn?t be more excited about it! Our underclassmen have been stepping up to the challenge in a big way and I can?t wait to see how they continue to develop!
Here?s a quick look at where we?re at:
106 –?Sophomore?Jack Novarro?leads the way here coming off a 6th place finish at Sectionals his rookie season. Jack has worked hard in the off-season and the growth shows. Excited to get him back competing and see where he?s at! Also here is freshman?Morai Eman.?Moral is brand new to wrestling and has been working hard to pick it up quickly. He?ll be a great addition to our core of lightweights.
113 –?Sophomore?Kion Yaghoobzadeh?will hold down the spot here. Like Jack, Kion has put in a ton of time this past off-season and has gotten better and better. Kion is one of the most patient, workman-like wrestlers on our team. He's been great at dealing with setbacks, analyzing where he needs to improve and intentionally directing his efforts to getting better in those areas. The result is steady improvement and it?s been showing. Also, of note, is that my computer keeps auto-correcting to Kion to ?Lion,? which I think says a lot about the heart of this young man! Also here at 113 are freshman newcomers,?Daisuke Kaga?and?Fernando Lens. Fernando leads the way here with a couple of years of modified wrestling experience under his belt, while Daisuke is a newcomer to the sport. Thankfully, they all learn quickly and are a great group to keep pushing each other to get better!
120 -?Sophomore?Jason Older?is the third of our ?core 4? sophomores. Like Jack and Kion, Jason put in the time this past off-season and has clearly improved. While he had a little setback earlier in our preseason with an injury, I?m happy to report he?s back on the mats now and working into top competitive form! Pushing Jason to keep getting better here is freshman?Mitch Kronk. Mitch is a veteran wrestler who came up through our youth and modified programs. He?s another wrestler who?s worked hard this past off-season to refine his craft and it shows, as he already has a couple of varsity wins under his belt. Also at 120 are new wrestlers sophomore?Kenny Zhong?and freshman?Chris Ahn.?Both work hard everyday and keep improving – should be exciting to continue watching their development.
126 –?Two great options for us here: returning sophomore?Miles Teperman?leads the way. He?s the fourth of our sophomore ?Murderer?s Row? and like his classmates has spent a lot of time wearing wrestling shoes the past 9 months. It shows. Miles is tough, relentless and continuing to get better everyday? scary (for his opponents, anyway!). Also here is freshmen?Nico Wisnivesky.?Nico is another alum of our modified program and worked hard this past off-season. He was our sole rookie to come up to training camp with us at Cornell University this summer!
132 -?Freshman?Dan Hahn?is our only wrestler here right now. He is a brand new wrestler, but his athletic ability has been helping him pick things up quickly. And it that wasn?t enough he dyed his hair blue, so we know he?s all-in for the team!
138 –? Senior and captains?Georgie Guarnieri?has the spot here. Georgie has been around the sport for almost 10 years and it shows. He?s a tremendous leader for our program, a very hard worker and it?s an absolute pleasure watching him come into the room everyday, set an example for others and take care of his own business of continually improving. Also here is freshmen?Dylan Melora.?Dylan joins our team as a 2nd year wrestler, after beginning his career on modified last year. Dylan is scrappy and not afraid to mix it up against his competition. As we clean up more and more of his rookie mistakes, I think we?re going to see another great contributor to our line-up.
145 –?Junior?Phil Ahn?returns at 145, fresh off his 5th place finish at last year?s Sectional Championships. ?Air Phil,? as he?s known amongst his teammates for his high-flying double leg takedowns, continues to improve as a wrestler as well. With the experience he?s amassed over the past two seasons, his skills have developed to a whole new level. He?s effective in every position and only getting better. Also at 145 are freshmen?Sumeddha Biswal?and?Matt McCormack. Sumeddha has a year of experience on modified and Matty has been wrestling since he could walk. Both are steadily improving. Sumeddha picks up the torch as our first female wrestler since?Aly Kornberg ?15. We?re proud to have her on the team and hope other girls in Edgemont follow suit! You might recognize Matty?s last name as the long tradition of McCormack?s in our program continues. His two older brothers in the program,?Mark ?10 and Jack ?13, combined for four Sectional Championship appearances so who knows where Matt?s ceiling lies!
152 –?Freshman?Zach Frain?is debuting on varsity this year as well. Zach has been a two-year modified wrestler and it?s great to have another experienced newcomer at this weight. He?s been handling the transition to varsity really well, and, in addition to his marked improvement, he brings a great sense of humor that?s becoming a big part of our program.
170 -?Freshman?Dexter Seeley?has really done a great job here so far. He?s a veteran of modified and youth wrestling here at Edgemont and has also been making a great transition to this level. It?s been amazing to see the jumps he?s made in the past few weeks. It?s scary to think how good he?s going to be by the end of the season if he keeps this trajectory. Really looking forward to watching him continue to grow and get better. Also at 170 is sophomore?Stanley Yang. Stanley is brand new to wrestling and it?s great to watch him get in there and throw himself into learning a new sport. He?s been out with an ankle injury the past couple of weeks, but we expect him back on the mats very soon and to pick up right where he left off!
182 –?Junior captain?Nick Meglino?has the spot here. Nicky put on a lot of muscle in the off-season making the jump up here from 138 last year. We?ll probably see him down at 170 later in the season. Nick has but in more work the past year than anyone in our program and he?s reaping the rewards. He?s a tremendous leaders, sets a great example for our team, both on and off the mat, and is always there to help the younger guys on our team grow and improve. He?s undefeated on the year so far, but those who know our program know we don?t like to see any of wrestlers undefeated, so rest assured will be throwing some very difficult challenges at him in the next month to help keep him improving at a very high rate. I think Nicky is going to turn a lot of heads around New York State this year and I can?t wait to watch!
195 -?Last but not least, senior?Maunil Kothari?returns to the mat after a hiatus last season. As a coach, it?s always special to watch our veteran wrestlers ?put it all together? and develop a style that suits their strengths and abilities. Maunil falls squarely in that category. He?ll be the first to tell you he?s not the most technical wrestler in our line-up (although that?s improving everyday), so Maunil makes up for it with an very high intensity when he competes. It?s been fun to watch and looking forward to seeing how he peaks and finishes out his senior campaign!

The obligatory team picture (one of the ?out takes? – how tough do these guys look!?)
Thanks to the Class of ?17
Finally, I need to throw out a HUGE thank you to our Class of ?17 for their graduation gift to the program.
Our new torture device (er?air bike) has been a welcome addition to our strength and conditioning arsenal. Our old Airdynes finally bit the bullet, so this new bike – one of two we were able to purchase – couldn?t have come at a better time.
These things aren?t cheap, so we are SO APPRECIATIVE of last year?s seniors? generosity in giving back to the program. We even got it customized? check out those handlebars!
Thanks guys!
That?s it for now? talk to you again soon!
Feed the Panther,
Pete
Peter Jacobson
Head Coach
Edgemont Wrestling